In a previous post we defined the Ideology Matrix which can classify all belief systems generated by human minds. In this post, we use it to classify SORAnomics, relative to existing philosophies of Economics, Communism, Theocracy, and Anarchism.
Economics is a direct descendant of Mercantilism because it championed the cause of merchants and businesses, as proven by the dominance of the doctrine of profit maximization and the absence of wage maximization and rent or tax maximization. Marx tried to counter this with Communism which was supposed to benefit all, especially the working class which made up the majority of humans in any society. However, his major flaw was that he was also very objective (i.e. no scope for metaphysics or spirituality and he equated value in labour hours which is an objective measure).
Other philosophies such as Theocracy and Anarchism, on the other hand, focus on spirit. However, these are very weak on the objective/scientific parts. Theocracy tends to go into absolute control, while Anarchism goes for no control.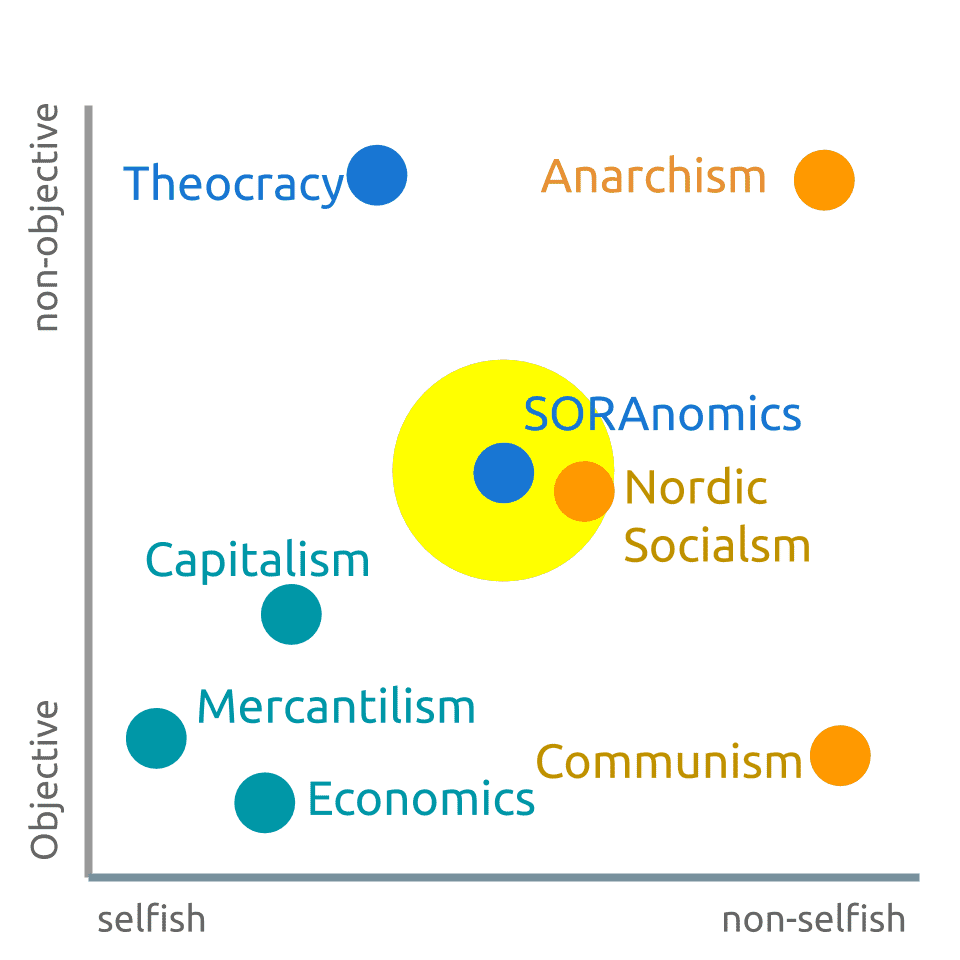 Our SORAnomics is positioned in the middle of these:
It has self-interest as svadharma, without degrading into self-love or selfishness.
It has freedom under the doctrine of consequence or karma , which prevents it from degrading into liberalism or neoliberalism
It advocates a strong, united, central control under moral sentiments asdharma or prajna-paramita , without degrading into tyranny or neo-conservatism
It has objective nominal valuation, such as money-prices, but is under real value as subjective the effort theory of value (labor theory of value)

It avoids circular thinking by putting it under existential value
With this input data, we can visualize its position in our matrix on the right. As you can see, SORAnomics is in the center, representing a balance between the self and society, and physics and metaphysics.